Collaboration diagram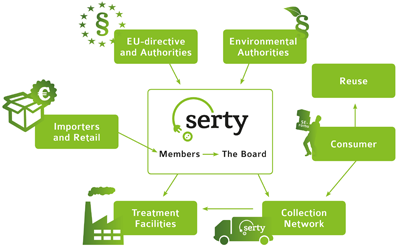 The EU directive and the authorities
The national recycling of household appliances is based on the Finnish legislation implementing the EU directive: the Government Decree on Waste Electrical and Electronic Equipment (Valtioneuvoston asetus sähkö- ja elektroniikkalaiteromusta (852, 2004), which entered into force in 2005, transferred responsibility for the waste management of household appliances from the municipalities to the importers and manufacturers of electric and electronic equipment. SERTY is a not-for-profit service organisation that ensures the recycling and delivery for further processing of the WEEE material on behalf of its members.
Environmental authorities
The task of the environmental authorities and the regional environment centres is to supervise and develop the national environmental policies, legislation, and practices. The operations of SERTY are supervised by the environmental authorities.
Importers and the retail sector
Producer responsibility concerns the manufacturers and importers of electric and electronic equipment as well as other operators selling electric and electronic equipment under their own brand. The members of SERTY fund the costs of the collection and processing of the equipment with the WEEE recycling fee that is included in the selling price of the products. The fee varies, depending on the product.
The producer's responsibility applies to nearly all electronic appliances, such as television sets, refrigeration devices, computers, telephones, lamps, air heat pumps, electric grills, electric kettles, and curling irons. Producer responsibility applies to both B2C and B2B devices. 
Consumers
Thanks to the collection system, consumers may return used electric and electronic devices to the nearest collection point free of charge. You can check the nearest collection point at www.kierratys.info (the Web site is available in Finnish only). Some stores selling electric and electronic appliances receive used appliances. Please read more: www.serkierratys.fi.
Before the products are returned, the extra parts, such as batteries or vacuum-cleaner dust-bags, must be removed. The collection points accept waste electric and electronic material from refrigerators to washing machines and from hair-dryers to coffee-makers.
The collection network
The WEEE material collected at the collection points is loaded into containers and sent for further processing. A well-functioning and efficient collection network ensures the optimal and efficient collection of WEEE material.
Processing plants
The WEEE material is sorted and transported by road from the collection points to the processing plants. In the recycling process, all glass, metal, and plastic parts are sorted from the appliances. In addition, all hazardous substances are removed and sent to hazardous waste treatment plants for processing. Today, the glass, metal, and plastic material extracted from the WEEE material is used for manufacturing various products.